Northwest Abatement, A Duct Cleaning Profile
Indoor Air Quality, Announcements
---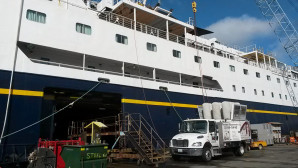 View full image
Meet Northwest Abatement Services, Inc.
Lakewood, Washington
"Northwest Abatement Services was established in Lakewood, Washington (near Tacoma) in 1994.
They are a specialty contractor with a diversity of services in five divisions:
Specialty Division with expertise in asbestos, lead, and mold abatement.
Fire and Water Restoration Division for emergency insurance claims.
Container Division providing boxes to collect and haul away demolition debris for their own needs and for the hauling needs of other clients.
A full-service Construction Division that builds custom homes, commercial buildings, and does restorative work for several of the major insurance companies.
An Indoor Air Quality Division that specializes in duct and furnace cleaning, featuring an American Caddy Vac.
The owner and president of Northwest Abatement Services, Mark Stephens, says that the five divisions work independently, but they also complement one another.
"As I continued to add divisions at a rate that, probably some would say was a little insane over the years, that diversification has really saved us," Stephens said, "Especially when the economy wasn't going well."
Even with the uniqueness of all these divisions, he says that there have been numerous times when every single one of his divisions were involved in a project.
He recounted one example, "Say the Northwest Abatement team goes to start a new custom home project and has to level the old, existing structure. The abatement crew will go in and remove the asbestos containing material, the demolition crew comes in afterwards, the container driver takes debris away, the construction crew builds the house, and then the indoor air quality crew finishes the project by cleaning the air system when all is said and done."
The work within each division can be quite diverse as well. Paul Peters is the Indoor Air Quality division manager and he explains that the variety of work doesn't stop at the division level..."
Request a free estimate for duct cleaning
Contact us with any service questions
---