What happens during an air duct cleaning?
---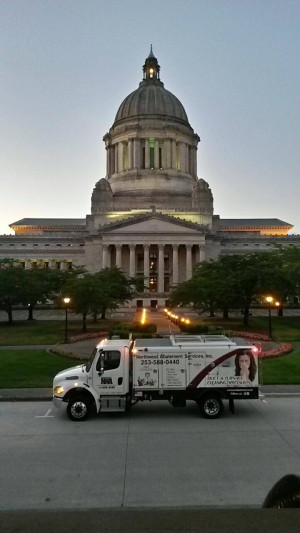 View full image
Air Duct Cleaning in Seattle, Tacoma, Puyallup, and Olympia
Have you ever wondered what happens during a professional air duct cleaning service?

Northwest Abatement Services, Inc. is a local specialty contractor headquartered in the Tacoma area that serves the greater Puget Sound region, helping Pacific Northwest businesses and homeowners live healthier lives starting with their indoor air quality, specifically air duct cleaning. The quality of the air people breathe in their indoor environments can be impacted by what is hidden in a buildings ductwork. The proper maintenance and cleaning of a ducting system is vital to healthy indoor air quality.
What we work with
Northwest Abatement chooses to work with an American CaddyVac truck-mounted vacuum system whenever possible. This system assures that your HVAC system is being cleaned with the most advanced cleaning system available. Two of the main components are the Power Whip System and the Power Brush System – both of these components allow our team to reach and thoroughly clean your ductwork with no debris entering your home or business. When the American CaddyVac won't reach a specific job site, we choose to use the handheld HEPA filtered portable vacuum, which works just as efficiently.
What we do
First, our high-powered truck-mounted vacuum is connected to the ducting near the furnace. All registers are isolated with the exception of the being cleaned, then a brush is sent down the length of the duct to clean it to the main trunk line. This process is repeated until each register in the structure has been cleaned.
Next, one-inch access holes are drilled into the air ducts, long lengths of air hose with special 360-degree high velocity nozzles are connected to the compressor and snaked through the entire duct system dislodging debris that has accumulated on inner duct surfaces. This process creates a powerful vacuum, pulling dislodged contaminants into the filtration system. This filtration system is so efficient that it can capture contaminants 1/300th the diameter of a human hair and return filtered clean air into your home.
Finally, when we have finished cleaning the entire duct system, all access holes are resealed and your ductwork is returned to "like new" condition.
Set up a Free Estimate for our Indoor Air Quality Packages
Our indoor air quality division offers the air duct cleaning process mentioned above in addition to electronic air cleaners, sanitizing, dryer vent cleaning, carpet cleaning, and blind cleaning. We believe that indoor air quality is much more than just clean ducts, it is every surface a contaminant could land on any given day.
Call us today for pricing, (253) 588-0440. Or click here to request a free estimate. You'll be glad you did.
Don't hesitate to get in touch with our Air Duct Cleaning Professionals, we are ready to help.
---